Fixtures for Sophisticated Sustainability

Aquamenities presents a unique, amenity dispensing fixture for luxury properties.
Fixtures for Sophisticated Sustainability
Aquamenities presents a unique, amenity dispensing fixture for luxury properties.
EXPLORE PRODUCT
Aquamenities began with the goal of removing plastic and product waste from upscale hotels and resorts. Our fixtures can be found in luxury hotels, casinos, resorts, restaurants, airlines and theme parks around the world. We would like to you to join us in our mission to save plastic and product waste and look forward to working with you toward a more sustainable future.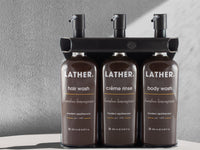 We serve a variety of establishments including:
⦿ Hotels and Restaurants
⦿ Spas
⦿ Gyms
⦿ Yachts
⦿ Business Offices
⦿ Airlines
⦿ Resorts 
⦿ Locker Rooms 
⦿ Corporate Showers
 ⦿ Timeshares Airbnb 
⦿ ... and more
Learn More
Millions of Plastic Bottles Saved From Landfills
Within a year, one 3 bottle amenity dispenser will remove approximately: 
1,000 plastic bottles and up to 5 gallons of partially used product from landfills
This equates to 14 bottles every second!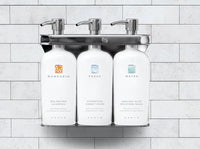 HOTELS, GYMS AND MORE
The fixtures' elegant design and tamper resistant security make it a perfect fit for any setting.
EXPLORE PRODUCT
SAVE MONEY
Our wall mounted amenity dispensers provide a lasting investment that continues to give back to you and your establishment. Just one Aquamenities fixture has an enormous effect on your bottom line.
As the months roll by, the investment you make will pay itself back.
LEARN MORE
UNBREAKABLE QUALITY
Our fixtures provide you with years of satisfaction and a 5 year warranty. We are that confident in our products' performance. Bottles typically last three years or more and pumps come with a one year warranty. Replacement parts can be purchased here.   
High end materials ensure that the impeccable appearance and functionality of our dispensers will last. Marine grade stainless steel construction ensures that rust and corrosion will never tarnish your reputation or bathroom surfaces.
Worry free protection that gives you peace of mind! Our locking feature secures your amenities safely inside, only to be unlocked with a special proprietor key in your possession.
EXPLORE PRODUCT
CLEAN ORGANIZATION
Like a clean and organized look in your bathroom? Consolidate all those ugly bottles into one fixture and choose your favorite design and finish color. Customize your amenity dispenser.
EXPLORE PRODUCT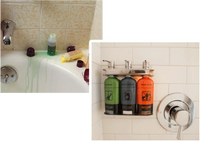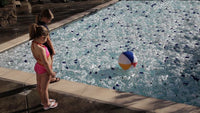 ECO FIXTURES
Millions of plastic bottles are dumped into landfills each year. Do your part by choosing Aquamenities!
EXPLORE SUSTAINABILITY
BRANDS AND DESIGN
We offer 50+ industry leading licensed product brands to elevate your guest experience. We can help you find the right fit for your property. You also can customize your own bottles for a bespoke look that speaks to your guest about your brand. Learn about customization.
Explore Brands